10 Writing Tools that are Essential for a Writer!
We recommend pairing your app of choice with software like Freedom App and also using the Pomodoro Technique. This type of software eliminates online distractions, like the news and social media, while this technique helps writers focus for longer.
If there's one skill that everyone can continue to improve upon, it's writing. Yes, everyone can be a better writer. Writing isn't just about putting your thoughts and ideas down, it's an important step towards creating something new.
Whether you're a published author, a casual blogger, someone whose job requires writing, or someone who likes maintaining a daily journal, it's not always easy to write out your thoughts in a meaningful way. With our busy world, gone are the days of sitting in front of a typewriter, waiting for inspiration to strike.
With an array of writing tools available on the internet, you can easily start writing anytime you get a thought or idea, get feedback and suggestions on your work, and let your tools tell you whether you are grammatically correct!
Our Recommended Best Writing Tools For Creative Writers
There are some great tools that can not only help you write, but also improve your vocabulary, correct your grammar and punctuations, give feedback and suggestions, and provide a writing experience that'll make you fall in love with writing!
1. Grammarly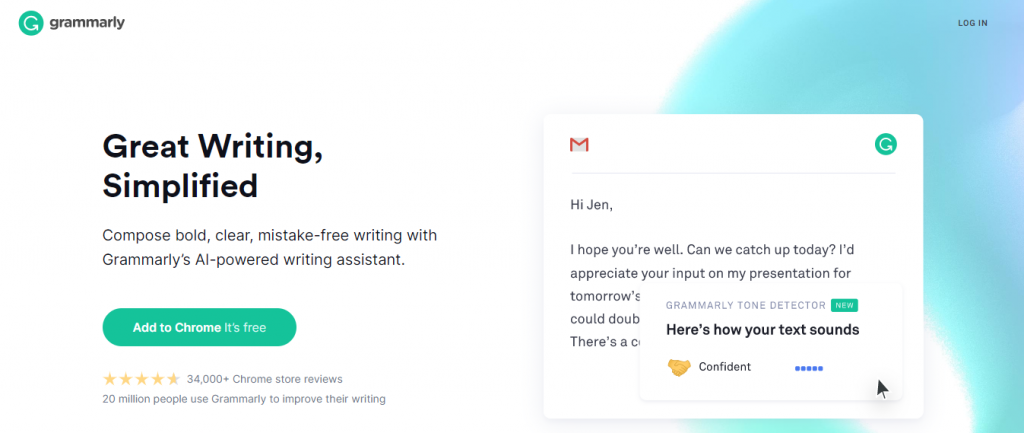 Grammarly is a writing enhancement tool that goes beyond your basic spell checkers. It includes spell, punctuation, grammar, and plagiarism checker. It also has a vocabulary enhancement tool.
This writing tool scans your text for more than 250 types of grammar mistakes in six distinct writing genres. This tool also provides detailed explanations for all your errors and weekly progress reports. It's available as a browser extension, a Microsoft Office add-in, a desktop app, and a website.
2. Bit.ai

If you are working on a solo project and need suggestions and feedback from fellow writers or friends, you can invite them to the doc. Your friends or team can then highlight changes, add comments, and can even chat with you, without leaving the document.
Bit's editor stands out when you're putting together research or need to include various types of digital assets inside of your documents. You can easily add weblinks that automatically transform into visual bookmarks that include an image, title, and description that you can edit making it the best writing tool in the market.
However, what makes a great writing tool is its editor. Bit's smart, minimal editor is perfect for distraction-free writing. No more word-styled ribbon with confusing and distracting tabs and buttons.
3. Hemingway

Want to make your writing more effective? Use Hemingway editor to write or just copy-paste your doc into the editor. Hemingway will then analyze each word and give you suggestions to improve your sentences.
The writing tool highlights lengthy, complex sentences and common errors, adverbs, passive voice, and suggest alternatives to improve sentence flow and readability. This is a great app to make your writing more professional!
4. Coschedule
If you are a blogger, marketer, or copywriter, you very well understand the importance of writing an effective headline. Headlines are your content's first introduction to the world and are often the primary reason why people decide to consume your content, making them an integral part of the writing experience.
This writing tool claims to be the "#1 Headline Analyzer" on the internet. Coschedule lets you write headlines that drive more revenue, shares, click-through rates, and search results. You can use Coschedule Headline Analyzer for writing headlines for your blog posts, email subject lines, or social media messages.
5. Yoast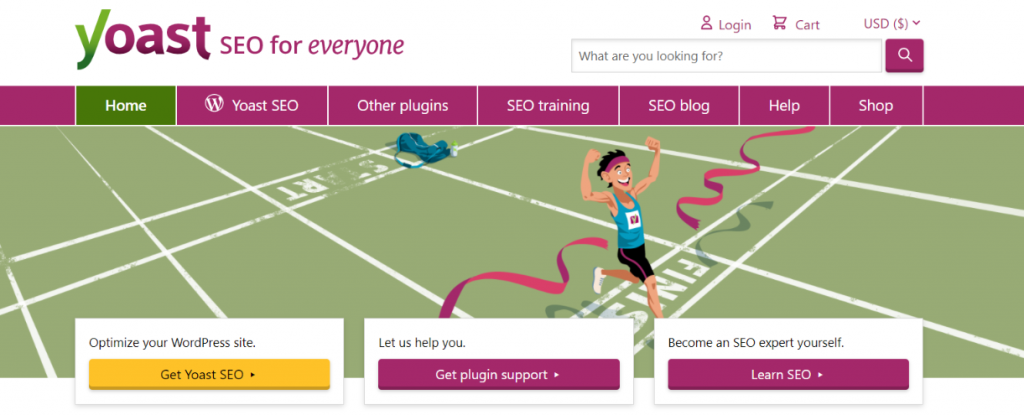 If you write for the public, you want to make your content as discoverable as possible on search engines. This is where SEO comes in. But SEO can be confusing, especially when Google continues changing its SEO technology in hopes of providing its users with better search results.
Yoast SEO boasts of 3+ million users worldwide, making it one of the most trusted SEO plugins out there. Yoast SEO offers a lot of features to help improve your content and make it search engine friendly.
Features like the ability to add focus keywords, meta description, rich snippets, and XML sitemaps help in optimizing your content and increase your chances to appear on the 1st page of Google. We highly recommend this tool!
6. The Most Dangerous Writing App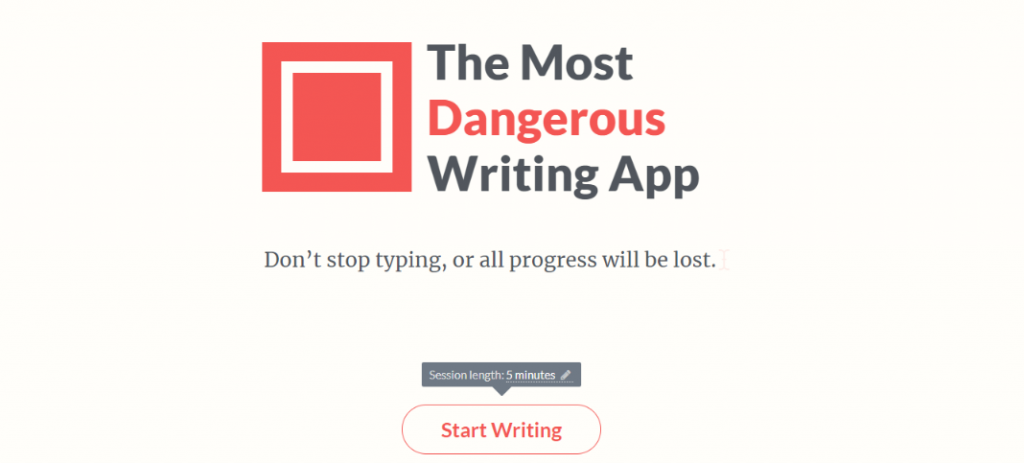 7. Daily Page

I Only Need Writing Software
What do all writers need?
do you need content writing tools?
Do I recommend ProWritingAid?
ProWritingAid is a fantastic type of software for writers who use applications like Scribner and also for writers who spend a lot of time writing fiction. It will help you check your work for instances of inadvertent plagiarism and also find and fix common grammar mistakes.
What are the best writing apps for novelists?
Novelists have lots of great writing apps to choose from. Some of the best writing apps available today include LivingWriter, Campfire, and Scrivener. All of these enable you to arrange your stories, ideas and get something ready to publish or send to your editor.
What is a writer's toolkit?
A writer's toolkit describes everything that they use to come up with an idea, express it on the blank page, and turn it into something that they could send to an editor and later on publish. A toolkit will typically include a pen, paper, a notebook, a computer, a keyboard, a mouse, and some writing software.
Join over 15,000 writers today
Research
Research is an essential part of any writer's life, yet one of the most complicated. You can take notes from many different sources, but if you don't organize your ideas properly, by the time you have to write your piece, it will be hard to get a hold of them. You won't know what notes to use and which ones to avoid.
Pocket
First and foremost, I love Pocket because it helps me organize all the articles I want to read before I can actually take the time to read them. When I was learning how to create content and promote it, Pocket was my BFF; I had dozens upon dozens of articles in there that taught me everything I know now.
As I started to write increasingly more, I started to take a lot of time researching new sources of information to add to my content. My only problem was that I couldn't keep up with all the data I gathered. Then I realized Pocket was going to be my savior.
LINER
LINER is a Chrome extension that helps you highlight anything online. Instead of saving entire pieces like you'd do with Pocket, LINER helps you save individual paragraphs, sentences, or words. Think of Pocket as a bazooka, and LINER as a sniper. 😉
Pocket + LINER = A Match Made in Heaven
As I said before, my research process starts by saving as many interesting pieces in Pocket and then moving on to reading them one by one. Whenever I find an interesting quote, stat, result, or data that could help me with the content piece I'm working on, I don't copy and paste each individual data point directly into my article; I use LINER instead.
Pro Tip: Use Folders
Evernote Web Clipper
While the former tool is a wide-ranging app that can help you write, edit, and organize your content, its Web Clipper lets you take screenshots, add annotations to it, and even highlight content for your research.
To start, Evernote Web Clipper is wonderful for whenever you are writing a tutorial article and you explicitly want to show how the thing you're writing about looks like.
Another great use for Evernote Web Clipper is to research content. While Pocket and LINER help me save individual posts and pieces of them, Evernote Web Clipper also lets me do the same, albeit with a decreased ease of use.
Extra
Power Thesaurus
I honestly don't use thesaurus tools or dictionaries too often simply because I don't need them. It's true that writers need to have a varied language so they don't repeat the same words over and over, making their content boring and repetitive.
Sometimes, however, I see myself repeating certain words and expressions, like the superlative "very," which I believe lower the quality of my writing. In such cases, I take the expression and paste it into Power Thesaurus.
I believe the word choices you make say a lot about yourself as a writer. If you use clichés and other commonly used words and expressions, you will never be able to become the type of writer you could be—one that engages all the reader's senses and imagination.
Sources:
https://blog.bit.ai/writing-tools/
https://becomeawritertoday.com/writing-tools/
https://contentfiesta.com/writing-tools/
Writing tools
Cost: $45 (or a 30-use free trial)
Literature and Latte's word processor is a popular writing tool — also, in large part, thanks to its organizational capabilities that seamlessly allow writers to turn fragmented ideas into a fully realized book/script/research paper/or whatever else you're writing.
The 22 Best Writing Tools of 2022: A Guide for Writers
Before the computer there was the typewriter, and before the typewriter there was pen and paper, and before pen and paper there were plenty of other lost tools of writing — like clay, papyrus, wood, slate, parchment, and, of course, pens made out of reeds. (Fun fact: the name "Reedsy" is inspired by the "reed pen," which was used as early as 800 B.C. for documentation).
As you can tell by now, the act of writing has been a part of human culture from the days of chiseling stories onto the walls of caves — and as we have evolved, so have our writing tools. In fact, today's writers and storytellers are spoiled for choice when it comes to deciding which tools to use.
The following list details our favorite writing tools and resources for taking any idea through to its written conclusion. If you want to cut straight to the chase and find out which is the right writing app for you, we recommend taking this quick 30-second quiz.
Which writing app is right for you?
What Are the 21 Best Writing Applications You Can't Do Without?
You might be familiar with a few of these best writing software programs, but you might not know how they stack up against the competition. Since we've personally vetted these tools side-by-side, we know what it takes for a writing tool to be the best.
Disclosure: Please note that a few of the links in this article are actually affiliate links. If you click on them, I will earn a commission, without any extra cost to you. Please know that I have only selected the best writing tools for you, which I personally tested and highly recommend. For more information, please read my affiliate disclosure in my privacy policy.
Best Writing Tool #1: ProWritingAid
With ProWritingAid, you can edit where you write. They have a great desktop writing app and plugins for MS Word, Chrome, Safari, Firefox, and Google Docs. If you are writing for work, it also integrates with a wide range of sales and helpdesk apps, including Salesforce, Zendesk, Pipedrive, and more.
Best Writing Tool #2: Grammarly
Grammarly can check your documents for wordiness, readability, and plagiarism (the Premium version only). Their recently-launched Beta version is compatible with Google Docs and shows phrasal predictions. Grammarly also scores your work against comparable pieces in your genre.
Grammarly suggests better word choices and flags spelling mistakes as you are writing. You can check synonyms and definitions of specific words by double-clicking on them. All of these features can enhance your writing in a big way.
Grammarly offers a free version with limited features, such as checking for conciseness and spelling errors. If you need more thorough proofing, you can buy their Premium plan for $29.95 monthly. If you pay upfront for a year, the monthly price comes down to $11.66.
Best Writing Tool #3: Microsoft Word
You can probably use Microsoft Word even with your eyes closed, but did you know that it can translate your document into non-native languages or publish newsletters on the web? These are just some of its standout features. Let's take a look at the rest of them.
Best Writing Tool #4: Google Docs
This cloud-based editor lets you access and edit your documents anytime, anywhere for FREE. If you install the app, you can edit offline on tablets, PCs, and phones. Whether you want to create content for business or for personal use, Google Docs is the best writing tool for you.
DB Corp started using G Suite in 2015. Their CTO, R.D. Bhatnagar, reports better agility and speed in their business processes, thanks to tools like Google Docs. He feels the tool has helped him stay organized and improve his writing habits.
Best Writing Tool #5: Hemingway Editor
The tool aptly named after renowned author, Ernest Hemingway, is a favorite of book writers and authors globally. Whether you write short-form or long-form content, this editing tool's got you covered. From social media captions to whitepapers, you can proof all sorts of content using the tool.
Keep an eye on the Hemingway Summary on the right-hand side. It shows your content's reading time. This is helpful for people who publish on sites like Medium, which offer reading time information to readers.
Best Writing Tool #6: SmartEdit
WordPress user, Ashley Parker Owens, finds SmartEdit's monitored word list to be a useful feature. It identifies overused phrases and redundancy. Using the tool, she has been able to streamline her content to a great degree.
Best Writing Tool #7: WriteMonkey
User Sunny Lee calls WriteMonkey one of the best writing tools when it comes to novel writing. It has helped him to come up with new ideas for writing stories. This way, he is able to overcome the proverbial writer's block and utilize his writing time fully. He also loves the platform's frequent upgrades and clutter-free interface.
Ready to Try These Best Writing Tools?
While some of these tools can detect grammar flaws, others can help you stay organized and productive. Together, they are the arsenal every serious writer needs to own. And, since most of these tools offer free trials, there isn't any harm in trying them out.
Disclosure: Please note that a few of the links in this article are actually affiliate links. If you click on them, I will earn a commission, without any extra cost to you. Please know that I have only selected the best writing tools for you, which I personally tested and highly recommend. For more information, please read my affiliate disclosure in my privacy policy.
ABOUT THE AUTHOR
Shane Barker is a digital marketing consultant who specializes in influencer marketing, product launches, sales funnels, targeted traffic, and website conversions. He has consulted with Fortune 500 companies, influencers with digital products, and a number of A-List celebrities.
The best for last…

One Stop for Writers

Share this:
Comments
A major character in my story, "Blue Cottage" frequently speaks in very simple to understand language. Consequently, she uses a lot of adverbs. I use Grammarly rather frequently, but it loves to suggest that I not use adverbs. However, it does not suggest any alternatives to the adverbs (I'm using the free version). Could you make a PDF for adverbs in the same vein as the Weak Verb Converter Tool? Thanks, this place is great!
Sorry Tom, we have to agree with Grammarly on this one. I can understand in your case you might have good reasons for using adverbs but generally we don't want to encourage writers to overuse them. It's much better to think of a specific verb that conveys exactly what it is needed rather than a weak verb + adverb. 😉
Grammarly flags **every** single adverb. I try to not use them because I know that Grammarly is going to give me this headache. But my MC is identified by her use of adverbs. To be more specific she loves to use the word "really". I beg you to reconsider. I was checking my third chapter last night. My protagonist, Cassie Carter, loves to talk. But Grammarly won't allow my characters to sound as I write them. Readers would be able to tell Cassie was speaking because she uses the word "really".
It's not like the story is peppered with the word. Grammarly won't allow any. All I'm asking for are *alternatives* to adverbs so I don't tear my hair out. Right now, my characters really don't "sound" the way I want them to. Grammarly is re-writing a bit too rigidly. Thanks and stay safe in these crazy, mixed-up times.
I get this for your character it's important. You should be able to google "adverb list" and find what you need. I would still encourage you to challenge yourself to minimize use. There will be other things that identify her as a speaker beyond her love of adverbs. If she loves "really" maybe that's her thing and she only uses that one. Not every dialogue line, but just here and there, and have someone make a point of noticing that she really (har har) likes that word, and she can explain why she's connected to it if needed, so readers get a bit of a heads up that this is her quirk, not you overusing adverbs unknowingly.
I would love to see a networking help section for Instagram. I personally do not use Facebook and have a very strict view on never wanting to use it. I also do not have a twitter and don't really have the want to use it. I would love to see some help/information in regards to an Instagram platform and ways to help aspiring authors & writers who use this platform.
Hi Amy,
I would love to provide a section for this, but it's just not in my wheelhouse beyond the basics, and there are just so many great blog posts and free courses on how to use instagram and be successful at it out there, I usually point people to those. You can do a bit of googling, but here's a good starting point: https://shaylaraquel.com/blog/instagram2020 and this one, too: https://prowritingaid.com/art/514/How-to-Win-Instagram-If-You-Are-a-Writer.aspx
Not the original commenter, but I'm still seeing this. The watermark on the Backstory Wound Profile is not transparent, so there's a big grey square where that image is (does not appear to be an issue with any of the other PDFs). It's really distracting.
I have just completed the first draft of my first single room novelette, thanks to your invaluable direction, without that advice I couldn't have done it. Now, I have set myself another new goal – I am trying to pen a "Time Loop" story, I am watching all these films and studying online, but still, I couldn't get my head around it. SO, here I again seek insight on how should I be approaching to write a "TIME LOOP" story.
Movie like – Groundhog Day, Looper, Predestination, Source Code, Edge of Tomorrow, Triangle, A Day, Run Lola Run. The main problem I am experiencing is conjuring up the "Main Reason" which is making the repetition of the events over and over again. Also whatever resetting the time, why is it doing so? How can I connect these with story's theme? Inside my head I am feeling foggy of these things.
These are all great questions to ask, but answering them is personal to the story you want to tell, so I don't know how much help I can offer. The "why" behind the reset is key, and will direct everything else. Is there a disruption of some kind outside the character's control that causes the reset (a rift in time, a time displacement, a thin spot in between realities, etc.) or is it another causing it (god, technology being part see by someone, etc.). Either answer forces you to look at what: what caused the loop to form and what will end it, or what is the motivation of the person causing the loop and what goal of theirs will close it? Start here so you can move onto the other questions.
Sources:
https://blog.reedsy.com/writing-tools/
https://shanebarker.com/blog/best-writing-tools/
https://writershelpingwriters.net/writing-tools/
Writing tools
It provides you with an extensive list of American and British spelling differences. In case of confusion, you can always refer to this list for appropriate spelling usage. This can help you improve as a writer.

Why Do You Need Content Writing Tools?
Improve your writing: You write coherent content without grammatical or structural errors.
Increase readability: You write content that your audience enjoys and finds engaging.
Help you find fresh content ideas: You easily find trending topics that interest your audience. It ensures you have fresh content ideas and content that resonates with your audience.
Help you create exceptional visuals: The tools help you discover visuals that resonate with your audience. You get insights into what colors to use, what hashtags to accompany the images, what themes, keywords, etc.
Help you get organized: Your team stays focused on producing quality content and not on proofreading and creating visuals. Your audience can also enjoy consistent content that solves their problems while keeping them engaged.
1. ProWritingAid
ProWritingAid has 20 reports focusing on different aspects of your writing. It also has additional features like articles, videos, and quizzes to keep your editing process fun, interactive, and educational.
2. HubSpot's Blog Ideas Generator
3. Surfer
To create SEO-friendly content, Surfer's Content Editor is one of the best content writing tools. The interactive editor keeps an eye on your content's keyword density, word count, headlines, and readability as you write it.
In one sweep, it can inspect 500+ data points and weigh your content against organic competitors. This way, you can create content that outranks the competition on search engines and attracts tons of organic traffic.
You don't need to switch windows or copy-paste lengthy content to use the tool. Just connect your content document to the tool, type your target keyword, and watch your progress in a nifty pane on the side. The tool generates a Content Score for each piece that you type, which helps you assess your content quality instantly.
4. Grammarly
You will also get access to its plagiarism checker and human proofreading options. In its latest update, it can give you insights into the tone of your emails as well. This makes it a great tool to include in your email marketing strategy.
5. YoastSEO
If you're a WordPress user, YoastSEO is a powerful SEO tool that you simply can't miss out on. It can help you come up with SEO titles and meta descriptions. That's not all; it also helps you assess the quality of your content and provides changes for the same too.
You can find your Flesch reading score through the tool and also check if your content uses sufficient connectors. YoastSEO also helps in checking the internal links, subheading distribution, sentence length, and more.
6. Thesaurus
Thesaurus provides you with the most trusted collection of over three million synonyms and antonyms. It also lets you filter the search results by their relevance, word length, and complexity. This can come in very handy when you're writing captions for posting on social media.
7. Copyscape
Copyscape is a great writing tool for all those who want to check if their content is free of plagiarism. Plagiarism is one of the biggest offenses that you can commit as a content creator and you must try everything in your power to stop yourself from falling into this trap. Plagiarising content can also lead to Google's penalties.
This tool goes through your content and finds similarities that it has with other content on the internet. By doing so, you can easily make your content completely original and reap the benefits of the same.
8. CoSchedule Headline Analyzer
This writing tool analyzes your headlines on their type, word balance, use of emotional and power words, and character length. It helps you write powerful headlines, which are very important to get the desired number of views of your content.
9. Cliche Finder
As the name suggests, Cliche Finder helps you find repetitive overused phrases that don't add value to your articles. It checks your writing, highlights cliches, and tells you exactly which lines need some adjustments. This makes it one of the best content writing tools to help you improve the quality of your blog posts.
10. Hemingway Editor
11. Readable
Did you know that an average American adult reads at a 7th to 9th grade level? It is important for you to keep your blog posts within that range to maximize readership. This writing tool by WebpageFX allows you to check the readability of your blog post.
Readable will help you analyze how readable your blog post is so that you can fine-tune it for enhanced readability. Additionally, it can help you check the readability of content you're posting on social media.
10 Best Content Writing Tools for SEO
Google Search Console
The Google Search Console is Google's own tool that helps you improve your rankings in the search engine results pages. The console includes tools that measure the performance of your website, including page load times that impact SEO. You can monitor your website's position on Google search results, including which of your pages are ranking for specific keywords. You can also see how many impressions and how many clicks your pages have gotten in the search engine results pages.
Google Search Console is a critical tool for all webmasters. It provides much-needed transparency into how your pages are performing and can help determine which content you should optimize or what keywords you should target next.
Google Keyword Planner
Most digital marketers use either the Google Keyword Planner or a paid version with better features for keyword research. Still, this is one of the best free tools for doing basic keyword targeting research. The keyword planner offers two main features:
WordStream
WordStream offers a stripped-down version of Google's keyword planner that's free and easy to use. Just type in a keyword of your choice, pick an industry and type in your location. Then click the big orange button and you'll get a list of keywords along with their search volumes on Google and Bing, and the average CPC for each keyword on each ad network.
SEMrush
SEMrush is one of the most popular and useful tools for digital marketers of all stripes. Their monthly subscription package includes 40 different tools that help with SEO, PPC and social media management. Marketers can use SEMrush to analyze backlinks, conduct keyword research, analyze the performance and traffic of their own website or those of their competitors and discover new markets, niches and opportunities. There's also a site auditing utility that can help with some of the more technical aspects of website SEO.
BuzzSumo
BuzzSumo is an analytical tool that helps marketers find out what kind of content people are sharing across many different platforms. You can enter a website to easily identify their most successful pieces of content. You can analyze trends over the past day, the past month, or the past year. You can filter by author or by platform and Buzz Sumo even supports negative keywords to help you pinpoint the data you're looking for.
Answer the Public
Type any keyword into this free online tool and you'll get an extensive visualization of questions people have asked on Google using your keyword. This tool connects with one of the biggest recent additions to the Google search pages: Snippets.
On some search results pages, Google now displays Snippets. A snippet is a tab near the top of the page that highlights a common question related to the target keyword. When a user clicks on the snippet, Google connects them to a web page that answers that question explicitly. Being featured in a Snippet is a great way to generate organic traffic because Snippets are always near the top of the page.
With Answer the Public, marketers can write highly targeted articles that directly address questions that they know are being typed into search. This makes it more likely that their articles will be featured in Google Snippets.
Yoast SEO
Yoast SEO is a WordPress plug-in that gives you real-time feedback as you optimize your blog posts using WordPress. The plug-in acts like a built-in checklist tool that prompts you to complete on-page SEO tasks for each blog post that you create. Yoast SEO provides feedback on your page optimizations in real-time, makes suggestions for improvement and helps you manage all the details when doing on-page SEO with WordPress.
Pricing: The basic version of Yoast SEO is free. Yoast SEO premium starts at $89 monthly for a single-website license, but you can save money by purchasing multiple licenses for multiple sites at the same time.
Sources:
https://shanebarker.com/blog/content-writing-tools/
https://directiveconsulting.com/blog/best-content-writing-tools-for-seo/
https://www.locationrebel.com/writing-tools/